Our objective has always been to help develop better infrastructure projects. SOURCE provides a comprehensive guide to all relevant aspects of project preparation and disseminates global principles, standards and good practices in a practical, digestible format, it facilitates coordination among project stakeholders, and creates a common language between public sponsors and private investors.
However, a software can only go so far and good project preparation requires first and foremost a good project team. We do recognize the key role project preparation facilities (PPFs) and technical/transaction advisors play in the good delivery of complex projects, and we are very excited to launch the PPF Finder on SOURCE. This new feature informs project developers of the PPFs their projects are eligible for, and public sponsors can then invite these PPFs on SOURCE to express interest for specific assistance:
 …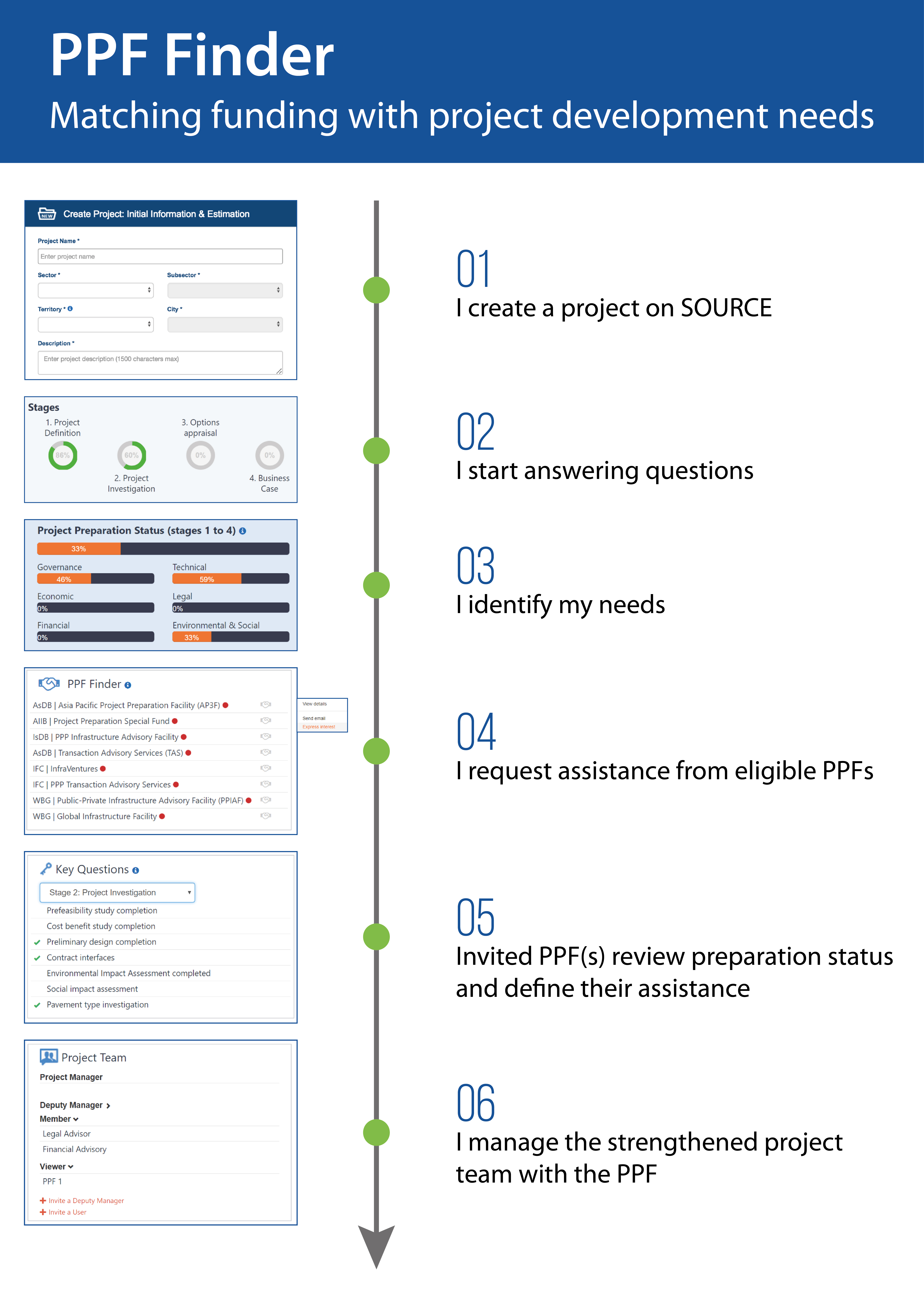 In 2020, SIF also aligned the Stage 1 (Definition) of SOURCE project preparation templates with the harmonised application form prepared by The Cities Climate Finance Leadership Alliance and used by the City Climate Finance Gap Fund. Therefore, preparing a project in SOURCE allows cities to understand the relevant information being sought for project support; reduce the amount of time cities spend in preparing application packages; create a streamlined approach to project application; facilitate the application process and pave the way for data sharing between PPFs.
The following facilities from Multilateral Development Banks and the Cities Climate Finance Leadership Alliance are listed for now, and the list will keep growing:
Organisation
PPF 
Africa50
Project Development
African Development Bank
African Legal Support Facility
African Water Facility
Urban and Municipal Development Fund
Agence Française de Développement
Cities and Climate Change in Africa (CiCLIA)
Programme for Energy Efficiency in Buildings (PEEB)
Asian Development Bank
Asia Pacific Project Preparation Facility (AP3F)
ASEAN Infrastructure Center of Excellence (AICOE)
Transaction Advisory Services (TAS)
Asian Infrastructure Investment Bank
Project Preparation Special Fund
C40
Cities Finance Facility
Climate Policy Initiative
US India Clean Energy Finance (USICEF)
Development Bank of Latin America and Agence Française de Development
Sustainable Cities and Climate Change
European Bank for Reconstruction and Development
Infrastructure Project Preparation Facility (IPPF)
Green Cities
European Investment Bank
European Local Energy Assistance (ELENA)
Urban Investment Support (URBIS)
Urban Projects Finance Initiative (UPFI)
European Investment Bank / GIZ
FELICITY
European Local Energy Assistance (ELENA)
European Investment Bank / World Bank
City Climate Finance Gap Fund
GCCA+
Climate Support Facility (CSF)
Global Environment Facility
Sustainable Cities Impact Program (SCIP)
Global Infrastructure Facility
Global Infrastructure Facility
GIZ, AFD, AECID
Covenant of Mayors in Sub-Saharan Africa
GIZ, ADB, C40, CAF, BMZ, KfW, ICLEI, ITDP, SLOCAT, UN Habitat, WRI
Transformative Urban Mobility Initiative
ICLEI
Transformative Actions Program
International Finance Corporation
InfraVentures
InterAmerican Development Bank
Public-Private Partnership (PPP) Team
International Finance Corporation
InfraVentures
PPP Transaction Advisory Services
Islamic Development Bank
PPP Infrastructure Advisory Facility
South Pole – EIT
City Finance Lab
Tamil Nadu
Tamil Nadu Urban Development Fund
UN Capital Development Fund
Local Climate Adaptive Living Facility (LoCAL)
Technical Assistance Facility of International Municipal Investment Fund
UN Habitat
Cities Investment Facility
UN International Strategy for Disaster Reduction
Making Cities Resilient Campaign and MCR2030
World Bank Group
Public-Private Infrastructure Advisory Facility (PPIAF)
Australia Safeguard Partnership Program
World Ressources Institute
The CityFix Labs
If you are:
A government agency: Check out on SOURCE if your projects are eligible to technical assistances from listed PPFs
A PPF: Contact us on info@sif-source.org to be part of the list